ESSI Store Fixtures Specializing in sales of Drug Store Shelving and Pharmacy Shelving and Accessories.
For decades the use of Gondola Shelving in a Drug Store has been the most popular store fixture available on the market today. The Drug Store Gondolas will display or merchandise mass amounts of most of products and merchandise, as Gondola Shelves are a heavy duty fixture that can support up to 500 pounds of evenly distributed weight. More Info
Available in a double sided and a single sided configuration, widths of 24 inches, 36 inches, and 48 inches, with heights from 36 inches high to 96 inches high and beyond. Gondola Shelving can be configured to meet the needs of most any retail store application in most any aisle lengths or height needed. More Info
---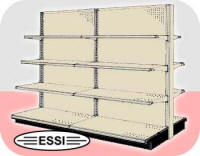 Double sided shelving also known as a Gondola provide the display of products and merchandise on both sides of the shelving system with either upper shelves, peg hooks or one of many accessories available for Gondolas. More Info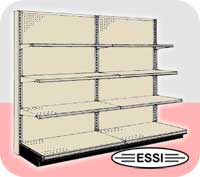 Single sided Gondolas are typically configured for a wall and can be used as an End Cap to be placed at the end of a double side aisle of Gondola Shelves. The same components are used for double sided and single sided.
Currently Gondolas are at 2005 prices. Find out exactly what your new shelving is going to cost you. Request a quick and accurate quote from ESSI. Click here to find the information we need to provide you a quote. Once you have your quote in hand all you have to do is say yes and we will have your new Gondola Shelving on it's way to you. More Info
Gondolas are made of steel, wood, and plastic components. The uprights, base shoes, base shelves, upper shelves, spanners, and lower trim pieces are made of steel, the backboards are made of wood and provide the stability of the shelving system, and the upright trim pieces are made of plastic. The components used are all interchangeable between a single sided and double sided Gondola Shelves. More Info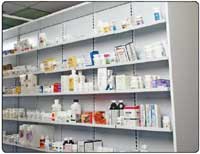 Pharmacy Shelving available in a single sided configuration designed to be placed up against a wall and a double sided configuration designed as an island configuration with all of the components available like upper shelves, dividers and stabilizer bars.