Madix Pharmacy Shelving is constructed of the same quality tubular steel that most Madix shelving, wire displays, and storage racking is constructed from with an open or closed back design and a two position shelf design.

Madix Pharmacy Shelves and Dividers a re constructed from the same quality steel Madix is well know for instilling the trust Madix customers have come to known.
---

Used to increase storage at ends of Pharmacy Gondola runs, Frame hooks over top and into legs of Pharmacy Gondola Upright, Accepts all 16" wide Tubular Pharmacy accessories and shelves with a load capacity is 800 inch-lbs evenly.
---

Here is a list and an image of the main components used to configure and construct Madix and Lozuer Drug Store Pharmacy Shelving.
---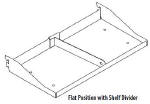 Used with the Tubular Drug Pharmacy Shelving to provide product organization, Dividers cannot be used when shelf is installed in the upside-down position, Standard finish: Snow White.