The components of our Gondola Shelves are made of Steel, Wood, and Plastic. The steel components are powder coated, the wood components are painted, and the plastic components the color is molded into the plastic.
The Standard Coatings are returnable and the optional coatings are not returnable.
We have color chips available by request if needed.
We have Laminates also available
Standard Gondola Finishes

Optional Gondola Finishes

Advanced Gondola Finishes

Gondola Laminates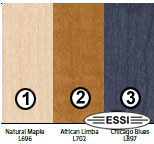 Natural Maple

African Limba

Chicago Blues



Kingston Maple

North Sea

Natural Pear



Spectrum Green

Golden Oak

Amber Cherry